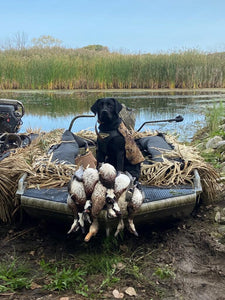 Middle Zone Opener
"The Michigan mid-zone opener for waterfowl was pretty good to us.
A group of six of us from Eight Ten,

Hadley Calls

, and Mitten Waterfowlers took two boats up for the weekend. Yes, we were able to get some ducks, but the best part is six month old Dixie got her first retrieve. Dixie ended up retrieving
ducks this weekend!
A lot goes into training a dog to retrieve. We spend countless hours working with our dogs to make sure they're sharp. Great job to Travis and his awesome pup Dixie!
We hope everyone had a great weekend hunting! Next weekend the south zone opens up and we will be hitting some water and fields for ducks and geese!"


---